Kitty Ostapowicz has been a New York based actor for the last 15 years, bridging the transition from stage work into film, television, and commercials. She's worked her way though the ranks of background on just about every show filming in New York, and has been featured in shows like NBC's American Oddysey, and Law & Order: SVU. She's starred in and produced numerous independent films, including the award-winning feature Meme, and short film Time Signature, both directed by Sean Mannion who focuses on strong female driven stories. Award-winning short The Run-In is available on Amazon currently, where Ms. Ostapowicz explores her favorite genres, horror/thriller/suspense. In Project: Snake – Low Budget Espionage– a fan-based homage to theMetal Gear Solid franchise of video games- she delivers a dark performance of a hired assassin fighting the patriarchy while battling a raging benzo addiction. She'll soon be bringing to life the complex character of Deputy Sheriff Deandra McNulty in Bishop's Cove, a cop teetering on the edge of right and wrong in the search for justice. On the web, she's found a place in Lisa Hammer's webseries, Maybe Sunshine, as DJ OD, a shining example of a little girl lost- always trying to validate herself in any way she can.
Kitty spent 20 years performing in her hometown, Buffalo, NY, and graduated cum laude from the University at Buffalo with a BFA in Music Theater. She's made her off-Broadway debut in the American premiere of Dream Street, playing both Leticia Moon, a stage mother from hell, and Mrs. Dewberry, an angry old vocal coach who takes her bitterness out on undeserving children. She was also lucky enough to play Fancy in Stephen Bracco's one act play, St. Fancy, where she got to explore life as a magical alcoholic who ensnared her therapist as a spare liver to keep on hand, should hers give out.
How it started…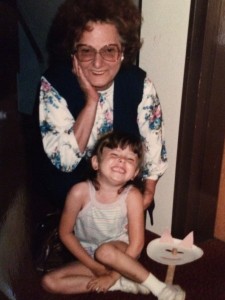 Kitty Ostapowicz is a professional and hard working actor with a love for travel, makeup, shoes, and peanut butter. The acting bug was sparked at age 6 in her kindergarten class production of The Three Little Pigs. In her role of "Third Pig", she found herself frustrated with how lax her costars were. She pushed through a gut-wrenching performance, only to end in tears, lecturing her cast on the importance of professionalism and dedication to the show. And so it began.
She studied ballet, pointe, jazz, tap, and modern dance and dabbled in baton twirling growing up, started playing the flute at age 8, and immediately joined choir after a concert in 4th grade.
She went on to study Music Theater at University at Buffalo because she couldn't choose between the singing, dancing, or acting aspects of her passion, and spent some time performing in musicals and at Six Flags and Busch Gardens before heading to New York to pursue her dreams of Broadway. Somewhere along the way, she found herself in the indie film world, and in a full circle, straight acting again became her focus.
Kitty's favorite genres to watch are horror, thrillers, sci-fi, and otherworldly adventures. That translates into a love for projects that somehow challenge the ideas of what "normal" and "reality" are. She is currently committed to finding the most challenging and "out there" roles to expand and strengthen her skill set, and have the best time possible doing the only thing she could ever imagine doing; Acting.